Hi everyone!
Thank you for paying our little sewing community a visit today! Have a read on to find out a little bit about Sewing Classes with The Party Frock and how we began!
Kate x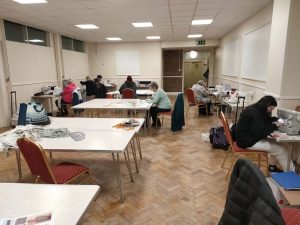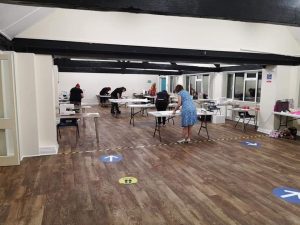 I started my dressmaking business in 2009, following a redundancy from the soft furnishings industry. I was armed with a BA-hons degree in Fashion design, a big box of fabric and high hopes! I went from making a few Bridesmaids dresses to quickly moving on to full on Wedding gowns in my first year of business, not quite what I had expected when I foisted random handmade frocks on to friends and family when I started out. My passion for alternative wedding attire grew and I made a name for myself in the local area as a go-to for really unusual, outside of the box Wedding dresses.
Following the birth of my son, Charlie in 2013, I found I didn't have the same amount of time for the quantity of  elaborate gowns and late nights. I had been sneaking in the odd 2-3 hour lesson for friends and family members to teach them how to sew simple items, and started to find my comfort zone in helping others gain the skills that I had. My Mum, of course, had spotted these teacher qualities in me a long time before I found them, and she encouraged me to start up my own sewing classes. I booked on to the Award in Education and Training at CERT to make sure I could actually be a 'proper teacher' along side actually knowing my craft. Thankfully, despite having not written an essay since 2004, I slipped back into learning quite easily, and before I knew it I had my qualification!
I set up my first classes to start in January 2016, with 15 students over two week nights we began! And we are in our 7th year and some of those original 15 still attend! We have 3 classes per week and loads of fantastic, creative students.
We now have beginners classes in January and the odd repeat of that throughout the year (keep your eyes peeled for dates!), general sewing classes all year round, pattern cutting (where you can design your own clothing patterns!) in September and we usually pop in a festive course for a bit of fun before Christmas. We have also introduced a monthly Sunday 'Sewcial' full day classes. Classes run on a Monday evening and Tuesday morning (term time only) in Scunthorpe, and a Thursday evening in Broughton.
Why not join us, and check out the Sewing Classes that are available to book on to now!